Deluge in Suffolk, by David Holley
The weather warnings regarding Storm Babet didn't really register with me because I don't live in Eastern Scotland. However, the threat posed by Babet the Disrupter certainly did catch my attention when I was driving with my three young children last Friday morning.
We had left home in fairly heavy rain. There was plenty of surface water on the country roads, so I drove extra carefully. After dropping off my daughter, I had my two boys in the car, embarking on what is typically an uneventful 3-mile journey through the countryside. It is an idyllic setting. The area features delightful thatched cottages, small modern housing developments and open fields lining the two-lane highway. The river Ore, more of a stream really, runs alongside the road, separating gardens from the traffic.
Last Friday, the storm's deluge caused the Ore to transform suddenly into a torrent, breaching its banks and flooding the road with no warning. Somehow, I managed to turn off the flooded road, crossing a submerged bridge while using the railings as my guide. At this point, the water had risen to the level of the car's doors and the engine of my VW began to protest.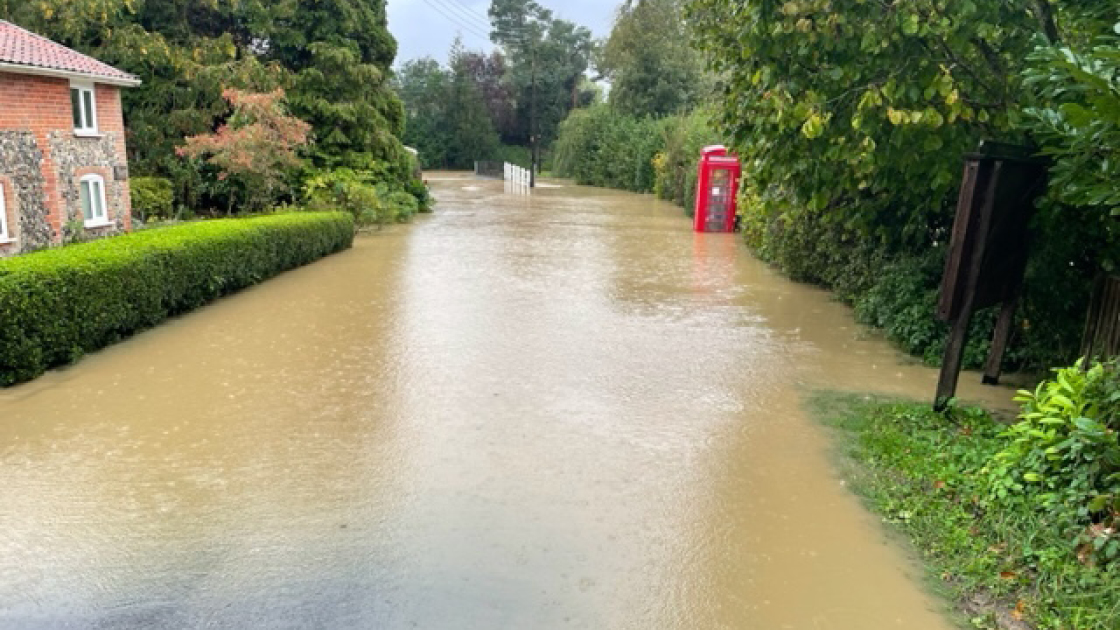 The river Ore breaching its banks and flooding the road.
Drawing from my military training, I knew it was unwise to drive through flooded water. Luckily, I spotted an elevated section of road about 40 meters ahead which had remained untouched by the water. I made the decision to push the car to get to safety, recognising that stopping on the flooded road would make it more challenging to get the kids out. 
The bow wave created by the car surged down the length of the village, flooding gardens and not exactly endearing me to our neighbours. The engine started to splutter and warning lights on my dashboard started to appear. My sons, who had been whooping with pure excitement until that point, suddenly fell silent as fear began to take hold. Fortunately, we reached the elevated island of tarmac.
Initially, I contemplated whether we should stay put with the car giving us protection or wade approximately 50 metres to the nearest 'dry land', a field raised above the water level. Wading with a 6-year-old and 8-year-old was impossible for them; they'd have to be carried. But could I carry both of them at the same time? What if I stumbled or dropped one of them? What if one of them panics and becomes hysterical? Was this the moment to pick up my mobile phone and call for help?  
I wasn't feeling frightened at this point – well, not until one of the boy's quietly asked, "Daddy, are we going to drown?" 
As if by a miracle, my wife, the unofficial fourth emergency service, called at that moment. After explaining the situation to her, she arrived and helped me carry the boys to safety. 
In retrospect, we weren't in any significant danger. But it was undeniably a nerve-wrecking experience, especially when later that day, the news reported that a man had drowned in his vehicle which had been washed away by the floods.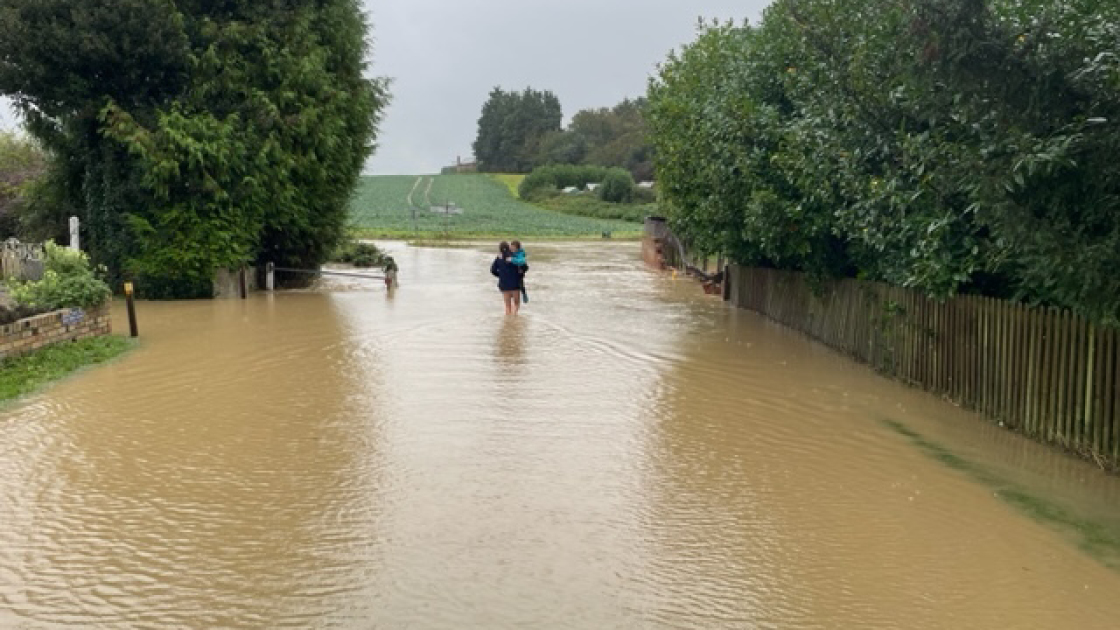 My wife carrying my son to safety.
Safety Tips for Driving in a Flood
If possible, avoid crossing flooded streets and stay off the road during dangerous storms. 
If you car has stalled or is stuck in a flood, do the following: 
Do not call the emergency services immediately, the priority should be to get out the vehicle.

 

Remove your seatbelt.

 

Roll down your window immediately (electric windows should still work after an engine has stalled).

 

If you have children with you, push them out first before getting out. Start with the oldest — an older child may be more likely to hang on to a seatbelt or the roof of a car, allowing you to help the younger ones.

 

Climb on to the roof of your car and hang on to whatever you can. Pull a seatbelt strap from the car, if possible, or clutch the rails.

 

Then call the emergency services. Rescuers are much more likely to see you on top of a vehicle rather than inside one that is filling up with water.

 
At RiskPal, we empower safety and security leaders to drive safety engagement within their organisation. RiskPal is a smart risk assessment platform that streamlines safety processes. We are dedicated to making safety simple and compliance straight forward. Reach out if you have any questions or need assistance in enhancing your safety and risk management processes.